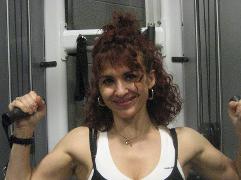 Established in 1996.
Physiques Fitness by Elvira LLC is Arizona's "Five Stars" rated company that focuses on fitness, nutrition and health, has over 23 years experience and specializes in working with people 40+, Seniors Fitness, Body Transformation, Fat Loss, Weight Gain, Rehabilitations and Nutrition (meal planning) Programs.
Fully customized PERSONAL TRAINING, FAT LOSS AND NUTRITION programs tailored to your preferences, your needs to maximize your goals and results.
Elvira/Ellie Geiger is the owner Physiques Fitness by Elvira LLC, and is a nationally highly recognized health and fitness expert, who was selected as one of the Top 10 Personal Trainers and Nutrition Specialist in AZ. She is able to use her detailed knowledge of the human body as well as nutrition and use her vast experience to assist people in achieving their fitness expectations and satisfy their health, fitness goals. Her proper techniques and high accountability make her business different from others. Through nutrition, exercise and expertise Ellie rejuvenate people's lives and empower them to find their unique healthy lifestyle and turn their fitness and health goals from fantasy to reality. Her focus is to educate, motivate, and inspire her clients to achieve their fitness and health goals. She works for the interests of her clients to achieve the BEST results. She creates challenging sessions and at the same time makes them enjoyable. Her training style incorporates strength, cardiovascular, rehabilitation, joint mobility and flexibility training. Elvira practices what she preaches. She is motivated to share her very unique wealth of fitness/wellness knowledge with the clients. Sports have played a profound role in her passion to help others. She has been involved and devoted to a variety of different aspects of competitive sports, experienced a wide variety of training regimes and practiced a healthy living lifestyle.
She developed her unique knowledge and fitness perspective by: * Successfully participating in the world-renown gymnastics programs from the age of 4; * Owning a very successful private fitness centres complete with multiple locations/ trainers and an impressive list of clientele; * Moving from France to USA Elvira continued to train and broaden her experience in nutrition & fitness programs and training techniques and where now she's sharing her unique world-wide experience and knowledge with the clients. It is her passion and goal to share everything what she has learned and gained.
So why choose Elvira??? What makes her different/ UNIQUE? Why should you consider choosing her to lead you to a healthier body & lifestyle when you can choose from the many professional trainers available?..
She not only wanted to help people get healthy and lose excess body fat but to be part of the client's medical health team, targeting ailments like diabetes, osteoporosis, arthritis and high blood pressure.
Ellie gets many referrals from doctors and naturopathic doctors for the simple reason that very few other personal trainers know how to use exercise in a targeted way towards chronic conditions. The results are incredible when you use exercises in a targeted way.
To further refine how to apply that knowledge and how to maximize her efficiency in achieving success for the clients, she also is Nationally CERTIFIED as a Nutrition Specialist, Elite Fitness Expert and Wellness and Life coach, also certified by DSW as a CERTIFIED Personal Fitness Trainer and in American Red Cross CPR/First aid. Her advanced education and practical memberships include: International Fitness Association (awarded international certificate in fitness), designated a Master World Class of Fitness and Aerobics as well as a Master of Sports Gymnastics, Master of Science Financial Management and also received a Bachelor of Arts in Physical Education with focus on Physiology, Anatomy, Kinesiology and Nutrition.
YOU'LL ACHIEVE THE RESULTS YOU DESIRE...GUARANTEED!
Each program is designed to meet the needs of your goals.
STOP PROCRASTINATING! CALL NOW: 480-276-4457