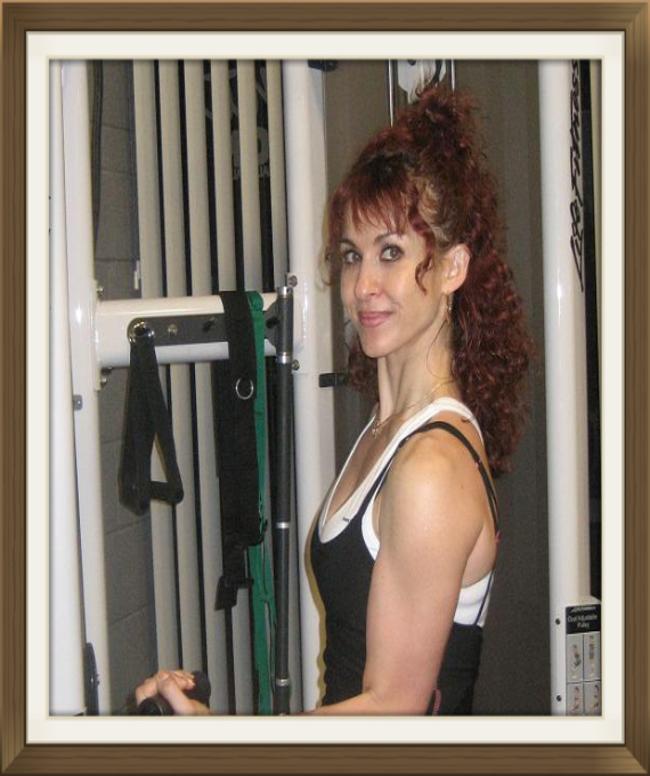 Physiques' Fitness by Elvira
Learn more about my service and book me on
http://www.yelp.com/biz/physiques-fitness-by-elvira-phoenix
Elvira/ Ellie Geiger is a Nationally Certified Personal Fitness Expert & Nutritionist with over 22+ years experience as a fitness & nutrition professional, presently serving valley-wide. Her focus is to educate, motivate, and inspire her clients to achieve their fitness goals and to help them to achieve health and wellness.
She works for the interests of her clients to achieve the BEST results and satisfy their fitness goals. Her proper techniques and high accountability make her different from others. She creates challenging sessions and at the same time makes them enjoyable. Her training style incorporates strength, cardiovascular, rehabilitation, joint mobility and flexibility training.
Elvira practices what she preaches. She is motivated to share her very unique wealth of fitness/wellness knowledge with the clients. Sports have played a profound role in her passion to help others. She has been involved and devoted to a variety of different aspects of competitive sports, experienced a wide variety of training regimes and practiced a healthy living lifestyle.
She developed her unique knowledge and fitness perspective by:
* Successfully participating in the world-renown gymnastics programs from the age of 4
* Owning a very successful private fitness business centres complete with multiple locations/ trainers and an impressive list of clientele
* Moving from France to USA Elvira continued to train and broaden her experience in nutrition & fitness programs and training techniques and where now she's sharing her unique world-wide experience and knowledge with the clients.
It is her passion and goal to share everything what she has learned and gained.

So why choose Elvira??? What makes her different/ UNIQUE? Why should you consider choosing her to lead you to a healthier body & lifestyle when you can choose from the many professional trainers available?..
Her time spent in the gymnastics, body building and successful European business history in fitness and nutrition gave Elvira a valuable base of knowledge to work from.
To further refine how to apply that knowledge and how to maximize her efficiency in achieving success for the clients, she also is Nationally CERTIFIED as a Nutrition Specialist, Fitness Expert and Wellness and Life coach , also certified by DSW as a CERTIFIED Personal Fitness Trainer and in American Red Cross CPR/First aid.
Her advanced education and practical memberships include: International Fitness Association (awarded international certificate in fitness), designated a Master World Class of Fitness and Aerobics as well as a Master of Sports Gymnastics, Master of Science Financial Management and also received a Bachelor of Arts in Physical Education with focus on Physiology, Anatomy, Kinesiology and Nutrition.

As a Certified Personal FITNESS Expert and Nutrition Specialist, she is able to use her detailed knowledge of the human body and use her vast experience to assist people in achieving their fitness expectations.
Elvira's achievements:
She speaks three languages: Russian, English, and French.
ISSA Certified Fitness Trainer;

Certified Fitness Nutrition Specialist;

DSW Fitness Certified Personal Fitness Trainer;

Certified in American Red Cross CPR/First Aid;

Member of International Fitness Association (International Certification in Fitness);

Master World Class of Fitness and Aerobics;

Master of Sports in Gymnastics;

Bachelor of Arts, Minor in Physical Education (Studies in Physiology, Anatomy, Kinesiology and Nutrition);

Master of Science Financial Management.
You'll Achieve The Results You Desire...Guaranteed!
Each program is designed to meet the needs of your goals.
In order to make sure you achieve success, nutrition coaching is included all private and semi-private training. Your program will be designed specifically around your body and your goals.
STOP PROCRASTINATING!
CALL NOW: 480-276-4457
Schedule Your Complimentary Fitness Consultation.
E-mail: geigerfitness4457@gmail.com