"At 72 years old, I recently began training with Elvira again to improve some basic belly fat and mobility issues. I wanted to believe I could experience results but figured my age was a restriction. My god, only 2.5 weeks and I have already lost over 10 lbs.....213 to 202! Besides physical training, she prepared a professional nutritional meal plan for my specific circumstances (love my meat!!). I already feel more energy and our early work on my balance and strength is already paying dividends. Regardless of your age, if you want to improve yourself and make your daily life more life work with her....I did and recommend her without reservation."
"I can't believe it's me. The beginning of this journey was tough. I was set in my ways and thought I knew more than my trainer Elvira. Well a year later I'm here to tell you this woman is amazing. Everyday there is a new workout so things never get boring, further Elvira is VERY mindful of all the things associated with being over 50. You know , "what hurts today". lol...... If you are looking to change your life and lifestyle then I highly recommend you take a journey with Elvira." Michele G., 64 y.o. Scottsdale AZ
I found Elvira on a certified personal trainer web page. She said she worked with older clients. As a 76 year old female I qualified. I had a month to train for a strenuous trip to Egypt walking 3 to 5 miles a day. We met, set a goal and I trained 3 times a week. I met my goals and just returned from Cairo. I rode a camel, went up in a hot air balloon over the Valley of the Kings and kept up with the fast paced tour. I recommend Elvira if you wish to get in a healthier place. I am continuing to train going forward. Bettijune F, 76 y.o Phoenix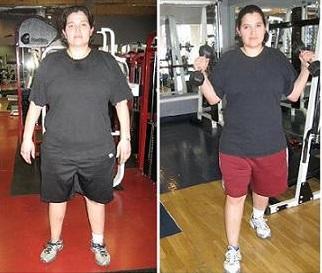 Before: 36.15% body fat; After: 25.1% body fat 12-Weeks Intensive Body Fat Loss Program: Claudia says: "" Wow!! AWESOME !! all the way around /from talking with Elvira, to her program, her dedication to you and your goals."
Congrats to David D:
Before: 34.35% body fat; After: 22.07% body fat
Fat Loss @ Fitness 50+ Program: "I finally decided to be realistic and ask to simply lose some of my belly and gain a little tone in my muscles. I met Ellie early this year, I wanted to work out with a trainer-to keep me honest and accountable. Ellie made some diet/nutrition suggestions and off to the workouts. In a few short months I had lost 28 pounds of fat and gained a lot of muscles - I am in the best shape of my life and look forward to seeing just how good I can be. Some additional benefits I have received on top of being in much better shape! Part of my job requires a great deal of traveling via airlines, some flights are in excess of 14 hours in length-through my training, not only has my posture significantly improved but enduring these longs flights is much much easier on my joints and muscles- Plus, Ellie knows how to encourage me to complete more reps during training sessions-I haven't received any injuries during training- Elly has a great understanding of the human body. Ellie is a professional and so dialed into each client. Don't miss this opportunity to really train with an expert,- you will not be sorry!"
Congrats to Karina:
Before: 33.6% body fat; After: 25.1% body fat
General Fitness Program: In JUST 6 weeks, Karina went from 180 lbs to 162 lbs and lost 8,5% body fat. She looks forward to having the body she wants and improving her overall health.
Congrats to Ronald Wallace,63 y.o.:
Before 199 lbs; JUST AFTER 6 weeks working out 174 lbs. 6 weeks Post Rehabilitation & Fitness 60++ Program: He lost 9% of pure fat and gained 4,3 pounds of lean mass in 1,5 months.
Ronald says, "Before I felt like a weak person trapped under my extra weight and lack of any strength to do what I wanted to do. Now feeling much lighter. Have new strength and stamina. I can better raise my arms and "stretch" my potential as to how I get around and what I can do! Thank You Again for your expert help in assisting me to give myself a better, healthier and stronger body".
Congrats to Omar:
3-Weeks Express Training Program: Lost 7 pounds pure fat and gained a lot of tone in his muscles.
Congrats to Mary:
Before: 30% body fat; After: 20.5% body fat
Fitness Over 45+Program: Mary lost 16.2lbs and 9.5% of body fat and gained 10lbs of lean mass in a few short months.
"Elvira delivers! I needed to shed some pounds and improve my physical condition. I tried working out on my own at the gym and dieting, with little improvement. When I first meet with Elvira I was skeptical, but decided to try it. After just 2 weeks, I had measurable changes in weight and physical shape. Working out with Elvira has been the highlight of my week! She has customized a personal program for me that works. I have not only lost weight, my body tone has improved. I am leaner, stronger, and happier since I first started. Working with Elvira is the best investment you can make in yourself and in your health!
Congrats to John:
Fitness Age Over 65++ & Body Transformation Program: Before: 34% body fat and after: 25% body fat. Before 240 lbs JUST AFTER 20 weeks working out 202 lbs. John lost 38 lbs of pure fat in 4 months program.
John says: " It was a life-changing decision. I was an overweight 68-year old male, at 240 pounds... I feel much healthier and have more energy. I recently took my annual physical and also a cardio treadmill stress test. The cardio written report stated: "The patient's exercise capacity was above average." I attribute that to the cardio exercises that Elvira has been helping me with. My other results from the physical exam were excellent - the first time in a couple of decades. I'm glad that I found Elvira's fitness training online on the internet, and made the decision to call for a consultation."
Congrats to Shirley:
Before: 33.31% body fat /169 lbs; After: 20.59% body fat/134 lbs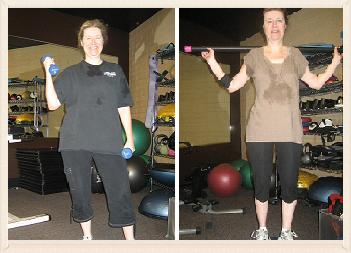 Fitness Over 50+ Body Transformations: Shirley's great lost is 30+ lbs overall body fat (size 12 to size 6!!) and 12.7% of pure fat. She is very happy and willing to keep her new body.
"Great wonderful terrific job Elvira!!.. I am extremely pleased with my results & highly recommend Elvira to anyone interested in a life change, not just weight loss. She has helped me with my horrible eating habits & made me understand how & why to eat the way I do today. Her exercises are killers but they work! I would highly recommend Elvira she produces results!" - Shirley, Phoenix, Az
Congrats to Ursula:
Before: 32.35% body fat; After: 26.1% body fat
After 12-WEEKS Fitness Over 65++ & Post Rehabilitation Program: before 260 lbs, 12 weeks after 234 lbs Ursula lost 26 lbs and 6.25% of body fat. She is happy to continue her sessions...
"I didn't expect a miracle and you have to understand it takes time to get back into shape after being out of shape for so many years. Don't let thinking you're too old to start something like this stop you. Will be the best thing you've done for yourself in ages!"
Congrats to Karen:
Before: 33.82% body fat; After: 26.32% body fat
4-Weeks Body Transformation Program: Karen went from 181.6 lbs to 171.2 lbs and lost 7,5% body fat and 9.5 inches total all over body . She looks forward to having the body she wants (140 lbs) and improving her overall health.
Karen says,"It's amazing to feel the changes happening so quickly in my body. My clothes are getting looser and my friends are telling me that they can already see the difference in my body. I have less pain now than I did before I started and I am almost off of all of my pain medicines. I always look forward to working out because Ellie is so wonderful, sweet, funny and nice as well as smart and educated about training the body. I feel blessed to have found someone so amazing and exactly what I needed to motivate me and help me get control of my life back and get stronger and healthier again"
Congrats to Michael:
Fitness 45+ Program: After 5 weeks working out with Ellie, Michael has made a difference in his fitness level. He is getting back to the best shape he's had ever before. He regained muscles quickly and lost 10% body fat. Michael says, "Ellie is a terrific personal trainer. I will definitely stick with her and would encourage other people that really want to make a positive change in their physical appearance and fitness level to work with her."
Congrats to Cindy:
Before: 32.41% body fat; After: 24.91% body fat
Fitness Over 45+ Body Transformations: Cindy's great achievement JUST AFTER 6 weeks working out. She lost quickly 11.5 lbs and 9 inches total all over body and 7.5% of pure fat. She is willing to keep her new image working out and get more results during next couple months.
"Ellie, Ellie, Ellie, - helped me lose my belly! No joke, Elly is amazing! She is very knowledgeable about not only exercise and weight loss, but the entire "life transformation" process. I have a very crazy schedule and live almost an hour away, but trust me- you will be happy with the results you get from having Ellie as your personal trainer. She is well worth the drive! Friends and family members have commented on how much younger I look and ask what I've been up to. I just smile and say, "Oh, it's my friend, Ellie". - Cindy says about her experience with Elvira.
Congrats to Kizzy:
Before: 37.9% body fat; After: 28.2%
Intensive 4-weeks Body Fat Loss Program: Kizzy' s great and amazing achievement JUST AFTER 4 weeks working out. She lost quickly 10.5 inches total all over body and 9.7% of pure fat.
Kizzy says, "Ellie is an awesome trainer!! It's an amazing experience and she truly is a personal trainer...very personable....I'm looking forward to working out with her more throughout the year and hopefully many more years to come :-)"
Congrats to Joanne:
Before: 37.02% body fat; After: 25.44% body fat
Fitness Over 60++ Fat Loss Program: before 179 lbs, after 139 lbs (size 12 to size 6!). Joanne lost quickly 20.5 inches total all over body and 11.6% of pure fat.
"Elvira carefully crafted an exercise and nutrition program tailored to help me improve while mindful of the hazards of my osteoporosis. She is very involved in my program--demonstrating, correcting and motivating throughout. I have seen significant improvement and results, and know that Elvira will help me achieve my goals."
Congrats to Jerry:
Before: 228 lbs 38.64% body fat; After 6 weeks: 206 lbs 26.63% body fat. Update: in 16 weeks - 194 lbs !!
6-weeks Fitness Over 65++ Fat Loss Program: before 228 lbs, in just 6- weeks after 206 lbs.
Jerry says, "I think her fitness programs have magical (body transformation and overall health improvement) powers!! I still can't believe the results I've achieved...(Needless to say, having NEVER participated in any exercise made this a very difficult step to take.) In only the first 3 weeks, I've already lost almost 20 lbs. and dropped over 5! inches from my BELLY! So, now I am a big believer in Elvira abilities..... She is truly amazing and can help ANYONE. I never ever thought I would say this but I actually look forward to continuing my path to good health and fitness working with Physiques' Fitness by Elvira . I am living-walking proof that it is never too late to start and is not as difficult to succeed as you might imagine* IF YOU FIND THE RIGHT TRAINER." Update: 194 lbs (last pictures) Dropped 34+ lbs of fat. "At age 65 I never ever thought I would be working with a personal trainer. Elvira explained her over 45+, 55++ programs and convinced me I should give it a try, and I must admit I am totally amazed... Glad I did: dropped over 30 pounds (can't even remember the last time I was under 200 lbs), had to buy some new clothes and I also have now retrieved my size 36 jeans, quit my back pain medication and feel so much better now than I did 15-20 years ago. I just extended my program for the third time and look forward to Elvira helping me to my ultimate goal. Enthusiastically would recommend her to anyone wanting to feel better and be much healthier. She promises and she produces...thanks!"
Congrats to Brian:
Before 278 lbs; After 4-Weeks 245 lbs; After 6-Weeks 225 lbs; After 12-Weeks 196 lbs- Total 82 pounds loss i just 3 months!!
9-Weeks Intensive Body Fat Loss Program: before 278 lbs, after 2.5 mo 216 lbs and 196 lbs just after 12 weeks Brian lost quickly 32 inches total all over body (13 inches from his stomach area) and 82 pounds of pure fat.
He says: "Ellie only needed me to believe in her which I did and it is paying off. She gets more excited about my success than I do sometimes and I love it. There is no doubt she is motivated by results. I have wanted to get healthy for a long time but always found a way to put it off like a lot of people. One email to Ellie and 5 weeks later I've lost 33 pounds. My initial weight was 278 with a goal of 245 which was the lowest I've weighed in 10 years. Thanks to her inspiration and amazing results my goal is now 194 which I never dreamed of reaching again until I met her. I've never known a personal trainer that knows so much about how the human body works. I pulled a muscle around week 3 and showed up to the gym thinking there was no way I could train. She had me do a variety of stretches and I felt 100% better and got a great work out in. She has a infectious smile and endless energy. Which makes the work outs enjoyable even when you feel exhausted. I'm hooked and looking forward to continuing this experience which has been absolutely wonderful."
YOU'LL ACHIEVE THE RESULTS YOU DESIRE...GUARANTEED!
Each program is designed to meet the needs of your goals.
STOP PROCRASTINATING! CALL NOW: 480-276-4457
Schedule Your Complimentary Fitness Consultation.
E-mail: geigerfitness@yahoo.com