Physiques' Fitness by Elvira

Learn more about my service and book me on
http://www.yelp.com/biz/physiques-fitness-by-elvira-phoenix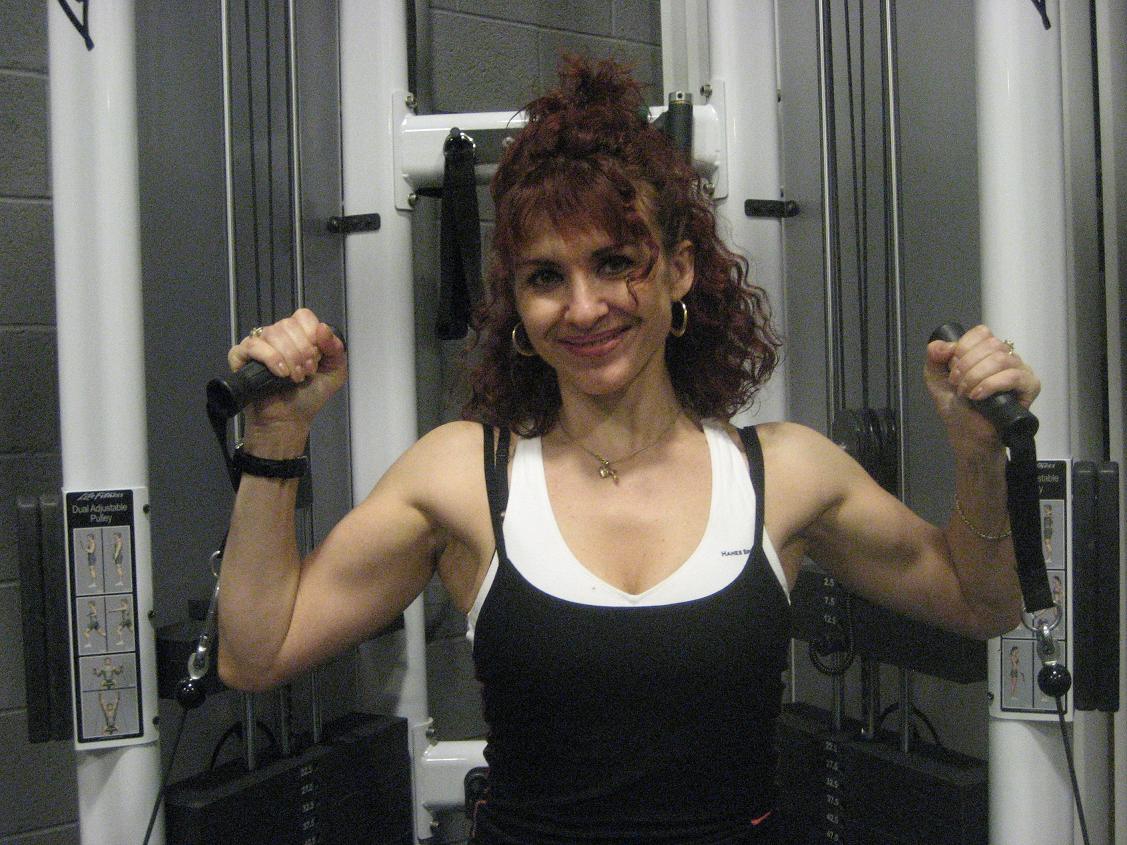 In today's difficult times your health is even
more important!
You won't have to worry about being thrown into a workout routine that you're not comfortable with.
You will enjoy working out in fun environment & atmosphere.
I offer a wide variety of programs catered to each person individual needs as well as offering nutritional counseling and nutrition meal plan programs. Training sessions can be in 30; 40 minute or 60 minute intervals.
My specific fitness programs might include circuit training, cross and HI interval training, weight and resistance training, core and strength training, cardiovascular/aerobic training.
Fitness Programs offered Include:
* General Fitness and Conditioning; * Traditional Strength Training;
* Stability and Balance Training; * Core conditioning training;
* Post Rehabilitation programs;
* Body Sculpt/building programs; * Fat loss and Weight reduction;
* Intensive body 6-8-12 weeks transformation programs;
* Fitness Age Over 45+, 55++
* Also, Private Pilates could be provided.
***Fat Burner Plus:
This fast-moving program works the entire body, focusing on major muscle groups to fire up your metabolism and burn fat. You'll benefit from an increased post-workout "after burn," enabling your body to continue to burn calories at a higher rate for as much as 24 hours after exercise.
***Sculpt and Tone:
This program focuses on compound movements to increase definition in the arms, back and shoulders while toning the lower body. An additional focus on the core targets abdominal and lower back for a lean and fit appearance. Also this powerful program challenges every major muscle group.
************Your time is now!************


Get the Body You Deserve!!
WEIGHT LOSS Nutrition PROGRAMS THAT REALLY WORKS Offered :
Lose up to 20 pounds in 20 day
s & 40 pounds in 60 days with a true weight loss proven program that involves no starving, no pills, no stimulants, no pre-packaged meals. You won't feel hungry, tired or grumpy!! No training sessions required!!!
*** Kick Start your Metabolism
*** Knock out Your Appetite
*** Eat Up to 6 meals per Day
*** Burn Major Body Fat
*** Boost Your Energy Levels
*** Get The Body You Deserve
Call today For your Free Consultation!!

cell: (480) 276-4457
geigerfitness@yahoo.com

Meal Plans and Proper Nutrition Programs:
Your nutrition plan is the key to long-term weight loss success. Once it is dialed in, a proper diet will increase energy, sense of well-being and focus, while simultaneously scorching fat and packing on muscle. Sounds amazing, doesn't it? It is.
At Physiques' by Elvira, our process is simple, yet effective. Upon arrival, we will take you through a few simple steps to help you customize the best nutrition plan for your body. We are going to turn you into a fat-burning machine, starting with a "diet" you can maintain for life. It's a beautiful thing.Take a closer look at how we'll do it.
Calculating your basal metabolic rate (BMR)
First things first, we have to know how many calories your body will burn in a natural, rested state, which is critical information when customizing a nutrition plan. To do this, we will calculate your basal metabolic rate, or BMR. Sounds fancy but it's really quite simple.
The reason why this is so important is because once we know your BMR (which changes with your fitness level) we can then build a nutrition plan to meet your exact needs, ensuring the proper caloric deficit for maximum fat loss during and even after your time here at Physiques' by Elvira.
Creating a meal plan
We provide you with a meal plan that is designed to produce an optimal metabolic burn using the proper macronutrient ratio of carbohydrates, protein and fats at each meal.In other words, everything you put into your body will have a purpose and you will eat exactly what you need, at just the right time throughout the day; every two to three hours as a matter of fact. Eating small but frequent meals keeps your metabolism running on high for extreme fat loss. The right meal plan will leave you feeling neither hungry nor full. It's perfection.
Teaching you how to do it on your own
Unfortunately, at some point you are going to have to leave us and return home. When you do, we are confident that you'll know exactly where to pick up so you can continue your healthy eating habits on your own.
Services offered Include:
* Assess your physical condition and track changes;
* Create an individualized training program;
* Make a nutritional plan and learn better eating habits;
* Body fat percentage/girth measurements;
* Proper training and stretching techniques;
* Re-testing after 1-2-3-4-6-8... weeks;
* Reduce stress;
* Have greater self-confidence
You'll Achieve The Results You Desire...
Guaranteed!
Each program is designed to meet the needs of your goals.
STOP PROCRASTINATING!
Call now: 480-276-4457
Schedule Your Complimentary Fitness Consultation.
E-mail: geigerfitness4457@gmail.com